Diamond Dolly is also available as a Dolly Parton Tribute Band (or Dolly & Kenny Tribute Band) either as a trio with 2 multi instrumentalists ( eg banjo / mandolin / guitar, steel guitar, fiddle - see bios below) or as a fully live 6 piece band ( Dolly plus 5 musicians and sound engineer)
Pete Aves ( Steel Guitar/ Acoustic Guitar)
Pete Aves has deep roots in country music. He taught himself pedal steel guitar as a teenager and shortly afterwards went on to play with Medicine Bow, one of the most renowned country bands the UK has ever produced. He toured the USA and appeared at the Wembley Arena International festival with the Bow before moving on to a successful career as a critically acclaimed guitarist, singer and songwriter. He played guitar in the 1999 musical Stand By Your Man and went on to work with legendary country maverick Lee Hazlewood among others. He has contributed steel guitar to live and recorded work by figures as diverse as Nick Lowe and Richard Youngs and was recently recruited to play guitar with UK folk legends the Strawbs at Cecil Sharp House. Pete is delighted to be reunited with his former Medicine Bow bandmate Pete Orgill and to be playing the music of one of country music's greatest writers and performers, Dolly Parton.
Pete Orgill (Fiddle, Banjo, Mandolin)
Pete was in one of the first ever country bands (Clinch Mountain Boys) in the U.K. back in the 60s playing the US air bases in Germany backing Barbara Mandrell & toured with Merle Kilgore (best known for writing Ring of Fire along with June Carter - Johnny Cash's wife. Pete was also in a rock band called Asgard on the Moody Blues Threshold record label in the 70's. Joining the Pheasant Pluckers, one of the first bluegrass bands in the UK in the mid 70s they went on to win "ITV Pub Entertainer of the Year" in 1974.  Pete now plays with Johnny Butten (ex Hayseed Dixie banjo player in the Guinness book of records as worlds fastest banjo player!) and Kit Morgan (Vanessa May's / Jethro Tull's guitarist) when not accompanying Diamond Dolly.
DOLLY PARTON TRIBUTE BAND SET LISTS
1 hour set:
Jolene
Coat of many colors
Baby I'm burning
Why d'ya come in here (looking like that)
Two Doors Down
9 to 5
I will always love you
Islands in the stream
Tennessee Mountain Home
Here you come again
Together You & I
Applejack
Better get to living
Backwoods Barbie
White Limozeen
Joshua
The bargain store
2 x 45 minute sets:
1 (45mins)
Baby I'm Burning
Stand By Your Man
D.I.V.O.R.C.E
Jolene
Blue Smoke
Two Doors Down
Tennessee Homesick Blues
My Tennessee Mountain Home
Backwoods Barbie
Joshua
Coat Of Many Colors
Take Me Home (Country Roads)
Sweet Home Alabama
9 to 5
Set 2 (45mins)
Applejack
Love Is Like A Butterfly
Ring Of Fire
You Never Can Tell
Bad Moon Rising
Here You Come Again
Why D'ya Come In Here Lookin' Like That
Ho Hey
Achy Breaky Heart
Rocky Top
Islands In The Stream
I Will Always Love You
Jolene
9 to 5
Dolly Tribute Band ( 6 piece)
Dolly Tribute Trio ( 3 piece)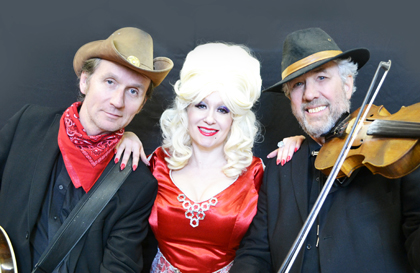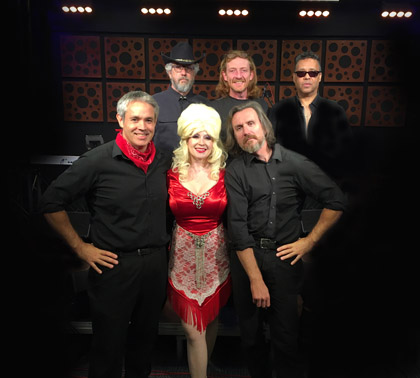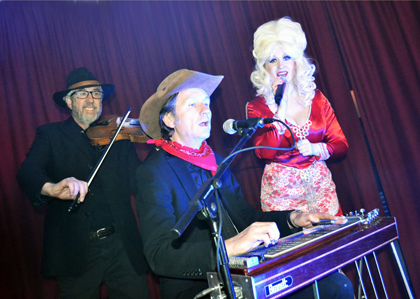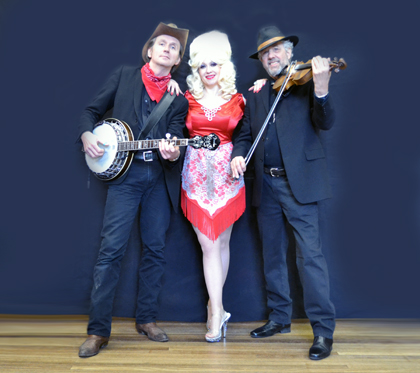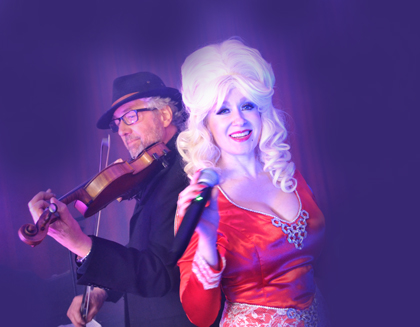 MAILING LIST
If you would like to receive information about new shows, special offers and news etc then please sign up for our newsletter by e mailing info@dollypartontributeuk.co.uk